Mayo Business Awards

In light of restrictions and for the safety of everyone involved, the 2020 Mayo Business Awards will not take place this year due to the COVID-19 health crisis. The exact date for the rescheduled Awards is yet to be confirmed but it is hoped that the Awards will return early next year. Please follow our social media pages for updates.
Stay Safe
---
Neill O'Neill - Lifetime Achievement Award
'Outstanding Contribution to Business in the Local Economy'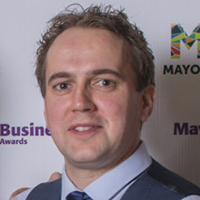 Neill O'Neill (10/07/1981 – 10/10/2017)
The Lifetime Achievement Award was initiated to commemorate the passing of our dear friend, colleague and former President of the Westport Chamber of Commerce Neill O'Neill, who passed away too soon, on October 10th, 2017.
Neill played an integral role in the initial relaunch of the Mayo Business Awards in 2015. It was decided after his passing in 2017, that an award should be dedicated to his memory; to all the promise he showed and to his contribution in making Mayo a place to be reckoned with on the national and international stage. Neill was tireless in his promotion of Mayo as being a vibrant place to live, to work and to do business.
Always remembered…Ar dheis Dé go raibh a anam….
Proudly Sponsored by Mayo Chambers

This award aims to recognise people who set up businesses in Mayo and flourished in areas that may have otherwise been forgotten; areas in desperate need of investment and employment, but most importantly, areas where local people could work, live and prosper.
It recognises the determination of the owners of such businesses and gives them and their teams the recognition they deserve.
https://www.mayobusinessawards.com