Mayo Business Awards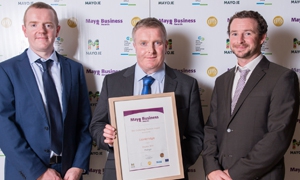 Following an absence of approximately five years, the Mayo Business Awards returned in 2015, and after its resounding success the Awards are back for 2016 for what promises to be an even better event.
The 2016 Awards will be even bigger as we have more categories, meaning more chance for businesses throughout the county to get the recognition they deserve.
This year's Mayo Business Awards will move to Ballina with the Awards Gala taking place in the Twin Trees Hotel on Friday November 4th.
The closing date for entries for this year's Mayo Business Awards will be Friday the 16th September.
Why Enter the 2016 Mayo Business Awards?
The Mayo Business Awards aim to celebrate all businesses in every town and village throughout the county and we encourage all Mayo Businesses to enter to be in with a chance of winning.
Entry is free for all categories with no limit to the amount of categories you can enter and the entry process is designed to be as efficient and straightforward as possible.
The benefits of the Mayo Business Awards to your business include:
Increased business opportunities
Increased exposure/publicity
Networking opportunities
Recognition of your success
Morale boost for your business & employees
Establish your business as a benchmark for excellence